Kazmierz NOIR
05/08/2011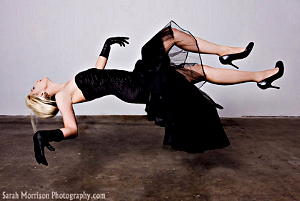 Living in America, the daughter of a Swedish emigrant and a Polish Jew created a genre of music which, when combined with her voice, is a mixture impossible to ignore and difficult to define.

Rykarda Parasol, the master of Rock Noir, will charm the stage of the Two Riversides Film and Art Festival with her voice. This resident of America, daughter of a Swedish emigrant and a Polish Jew, has created a new genre of music, which together with her voice created a blend difficult to ignore and impossible to define. Some critics describe her work as folk goth, others as indie. Faced with this rather inapt nomenclature, Rykarda has created her own term: "Rock Noir."

Her compositions, usually full of sadness and melancholy, express the feeling of a controlled, aesthetic anxiety. Rykarda Parasol's warm, low, opera-trained voice gets under the skin and the influence of its magic is hard to escape. One can name various inspirations of Rykarda, from Nick Cave or Marka Laneman, to the Doors. Nevertheless, it will not fully express the fusion between, as she herself calls it, "morass and finesse". One thing is certain: the concert of Rykarda Parasol will be an event that has to be included in the calendar of all the people who are familiar with original and emotional music.

On her website, Rykarda mysteriously stated that the concert in Kazimierz is going to be "very special" and that "she will perform with Polish musicians." This makes one assume that tonight we will see Rock Noir the way no one else has.

The show starts at 9PM at the Perła Festival Club.
Karol Surówka